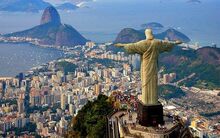 Rio de Janiero is the second largest city in the Country of Brazil. Nearly the entirety of the second season of The Rosen Family Chronicles takes place here.
The main spoken language here is Portuguese, and therefore instead of most of the citizens resembling Michael Rosen (like in London) most of the citizens here resemble Mark Sabine. There's also a lot of Japanese writing around the city because there's Japanese writing pretty much everywhere so screw you.
Pictures
Edit
Ipanema Beach
Edit
Escadaria Selaron
Edit
Streets of Rio
Edit
See also
Edit
Ad blocker interference detected!
Wikia is a free-to-use site that makes money from advertising. We have a modified experience for viewers using ad blockers

Wikia is not accessible if you've made further modifications. Remove the custom ad blocker rule(s) and the page will load as expected.